To better help us understand dogs and fireworks-induced stress let's start by thinking about how we might respond in a similar situation.
Picture the scene:
You are perfectly relaxed and comfortable. Perhaps you've just had an enjoyable meal with friends, or sampled a fantastic single malt, or are just winding down after a tough day at work.
Suddenly there is a massive explosion. There is a blinding light, the sound hurts your ears, and you can actually feel the shock wave.
What happens?
Well, you experience an acute stress response. This is more commonly referred to as the 'fight or flight response'.
This causes certain physiological actions in your body. There is a rush of adrenaline, among other things, and this results in an increased heart rate, rapid breathing, constricting blood vessels, and a tensing of muscles. All in readiness for a fight or a rapid escape.
Basically, your body is getting ready for action as if your life depended on it! (Which, in the past, it may have done.)
Fortunately for you, your brain recalls that it is Bonfire Night, New Year's Eve, Chinese New Year, or the 4th of July and that the explosion is the result of fireworks.
Unfortunately for your dog, no matter how many times you try to explain the concept of fireworks to him … he just doesn't get it!

As far as he is concerned there are still just the two options:
IT'S …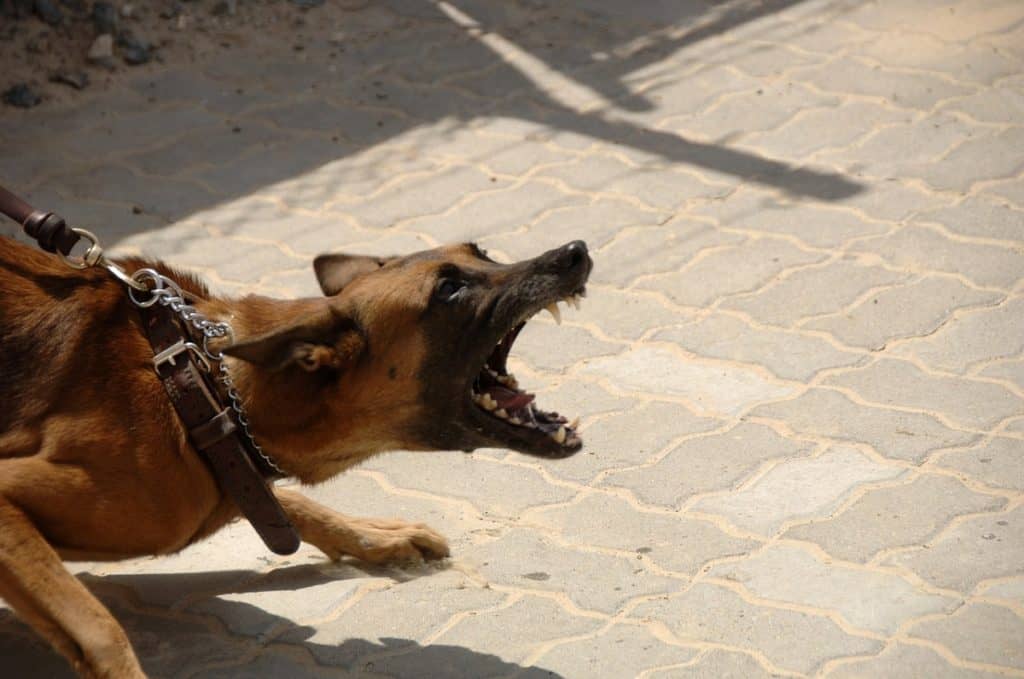 OR …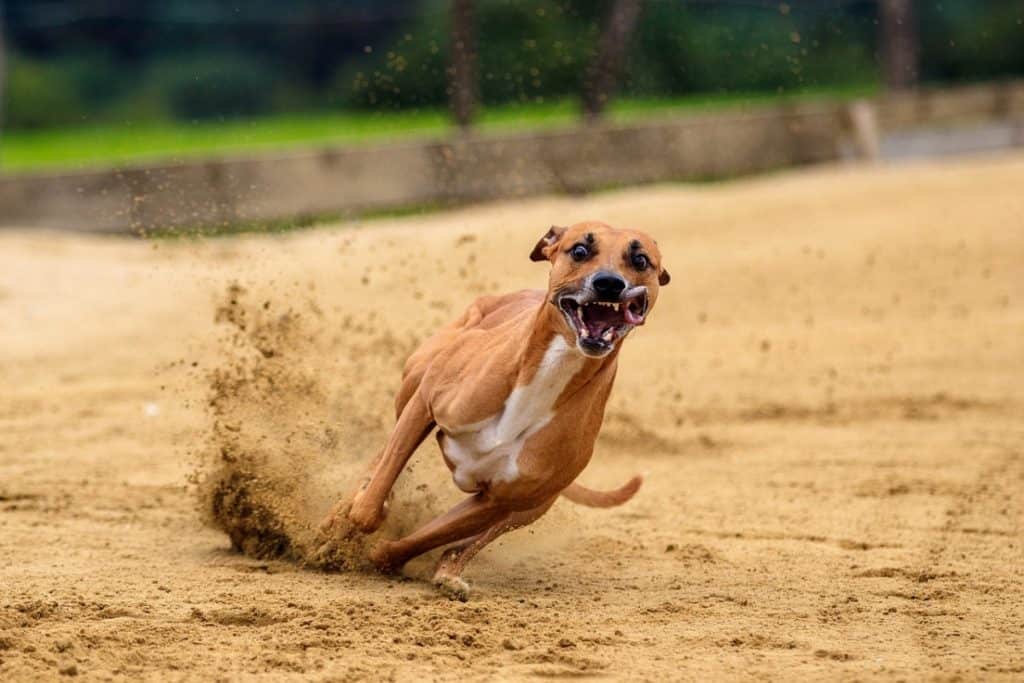 Let's take a look at fireworks, why (some) dogs are scared of them, how this fear presents itself, and what can be done to help your dog.
Please keep in mind that these are the thoughts and observations of a non-professional. If you are at all concerned about your dog's health then you should consult with a vet or behaviourist.
Affiliate Disclaimer
DISCLAIMER: AS AN AMAZON ASSOCIATE I EARN FROM QUALIFYING PURCHASES. THIS POST CONTAINS AFFILIATE LINKS WHICH WILL PAY A COMMISSION IF YOU FOLLOW THEM AND MAKE A PURCHASE. THIS IS AT NO EXTRA COST TO YOU. FOR MORE INFORMATION, PLEASE READ THE
AFFILIATE DISCLAIMER
PAGE.
1 Fireworks
"know yourself, know your enemy, and you shall win a hundred battles without loss"

Sun Tzu – The Art of War
We may not be at war but if we are to understand the stress responses of our dogs it may be useful to know a little more about the cause of that stress.
1.1 History of Fireworks
The earliest fireworks originated in China around a thousand years ago, during the Song Dynasty. At that time it was believed that fireworks could frighten away evil spirits and also provide good luck and happiness.
Originally bamboo stems were thrown onto fires and the heat would cause them to create loud bangs. Subsequently, gunpowder was stuffed into small containers to recreate the sound that the bamboo made.
The Chinese had already discovered that mixing certain chemical substances with fire created smoke of different colours, depending on the mix of substances.
These substances were combined with the gunpowder containers to create the combination of a loud bang and brightly coloured smoke that we recognise today as fireworks.
The term 'fireworks' is derived from the word 'pyrotechnics'. This word has its origins in the Greek words pyr (fire) and techne (art).
1.2 How Fireworks Work
In essence, a firework is a small explosive device that generates noise and a colourful display of light. So, how does it do this?
It can be split into three basic elements:
Fuse
This could be a simple piece of paper or cloth or, in more complex displays, an electrical charge. In either case, it's job is to provide a heat source. This heat source is what activates the rest of the firework.

Charge
This consists of gunpowder that is ignited by the fuse. The resulting explosion propels the firework into the sky (assuming that it is pointed in the right direction!). It takes off at several hundred miles per hour and may reach 1,000 feet in altitude before the effects are ignited.

Effects
This is the business part of the firework and often contains multiple effects (each in a separate compartment). They consist of further amounts of gunpowder mixed with other elements to create the desired effects (see below)
Fireworks generate their colourful effects by using various metal compounds (also referred to as salts). When extreme heat is applied to the compounds they create the desired colour.
For example, Sodium produces yellow and orange, Copper gives green or blue, and Calcium makes red.
1.3 Fireworks and Noise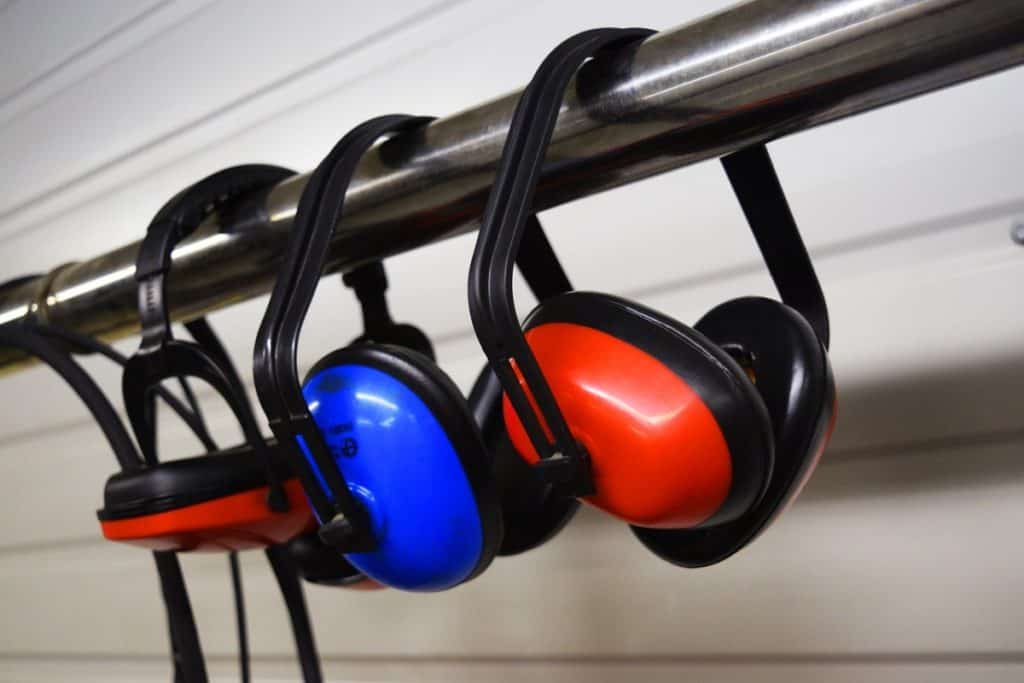 We all know that sound is measured in decibels but do we actually know what that means?
Take a look at the Wiki definition of decibel.
The key takeaway point is that decibels are measured on a logarithmic scale. For example, look at the following decibel increases:
10 to 20 – this is a 10-fold increase in noise
20 to 30 – this, too, is a 10-fold increase (and a 100-fold increase on 10)
30 to 40 – guess what? Yep, another 10-fold increase (and a 1,000-fold increase on 10)
Now that we've considered the technical side let's take a look at some real-world examples to try to give all of this some context.
| | |
| --- | --- |
| 0 | Silence |
| 20 | Whisper |
| 60 | Normal conversation |
| 70 | Passenger car |
| 90 | Lorry |
| 100 | Pneumatic drill |
| 120 | Jumbo jet taking off |
| 130 | Level at which most people will feel pain |
So, how loud do you think a firework can be?
Depending on the type of firework they can easily exceed 150 decibels. (Did you just look back at the table to see what level causes pain?!)
Remember how we said that fireworks can reach up to 1,000 feet in altitude? Well, that distance provides some protection as the noise dissipates.
Of course, for ones that don't reach that height or are ground-based, there isn't the same level of dissipation.
Now, take a moment to think about how much better a dog's hearing is than a human's hearing. There is an interesting AKC article on the subject.
1.4 Fireworks Legislation (UK)
The legislation governing fireworks in the UK is contained in The Fireworks Regulations 2004.
The provisions of the regulations may be summarised as follows:
No person under the age of eighteen years shall possess an adult firework in a public place
No person shall possess a category 4 (*) firework
There are exceptions to the above. Primarily these are in respect of things like those working in the provision of professional fireworks displays, the manufacture of fireworks, and the sale of fireworks.
No person shall use an adult firework during night hours unless during a permitted fireworks night

Night hours means between 11 pm and 7 am the next morning
Permitted fireworks night means between the following times:

11 pm on the first day of the Chinese New Year and 1 am the following day
11 pm on 5th November and 12 am the following day
11 pm on the day of Diwali and 1 am the following day
11 pm on 31st December and 1 am the following day

No person shall supply any category 3 firework which produces a sound level exceeding 120 decibels
The supply of fireworks may only take place at certain times of year (that is, in the periods associated with the permitted fireworks nights referred to above)
* It should be noted that the British Standards categorisation of fireworks used in the above legislation was replaced in The Pyrotechnic Articles (Safety) Regulations 2015.
It should also be noted that certain types of fireworks are banned for members of the public. This includes the 'mortar shell' type which resulted in a number of deaths in the 1990s.
1.5 Fireworks Legislation (US)
Recognising the fact that fireworks are basically explosives, the ATF (Bureau of Alcohol, Tobacco, Firearms and Explosives) is responsible for their overall regulation.
Now, as you might imagine, with a huge country like the US, where the 50 states are able to set different laws to the minimum standards set by federal laws, there is some variation in legislation depending on your location.
For example, there is one state (Massachusetts) which bans all consumer fireworks completely. Fireworks displays there are all public displays put on by professionals.
Others (like Vermont) only allow sparklers.
Still others only allow small, ground-based fireworks.
There is also great variation in the minimum age for the purchase of fireworks. In some states, it is 21. In others, it is 12!
If you wish to enjoy a fireworks display then the best option is a public display. If you want to put on your own display it would be prudent to check the regulations that apply in your state before proceeding.
You may find this Fireworks State Law Directory to be useful. (note that when you click on a state name it downloads a pdf rather than opening a new window)
2 Dogs and Fireworks-Induced Stress
Dog's have very good hearing. And, as we have seen, fireworks can be exceptionally loud even for human ears let alone dogs.
They also have a fantastic sense of smell and will be able to detect the various smoke scents in the air.
And, although their eyesight is nowhere near as impressive as their hearing and sense of smell, they can still see the bright flashes of light in the sky.
Basically, a dog is bombarded with sensory overload. And it's all telling him to 'fight or flight'.
So, what signs should you be looking for to see whether your dog is suffering from fireworks-induced stress?
They could include one or more of the following:
Panting
Pacing
Facial – salivating, ears back, pupils wide
Freezing or reluctance to move
Shaking or trembling
Vocalisation – barking, growling, howling, whining
Hiding
Urination
Defecation
Vomiting
Diarrhoea
Destruction of the environment
Escaping the environment
As you can see, there is a wide range of possible symptoms.
Interestingly, it seems that some dog owners are either unable to spot the signs or are unwilling to acknowledge them.
A study published in 2013 observed that in a general questionnaire 25% of people identified their dog as being fearful of loud noises but in a structured interview the proportion was found to be 50%.
The researchers observed that "whilst they are aware of their pet's behavioural response when exposed to a loud noise, owners do not necessarily recognise this as being indicative of fear or anxiety".
So, before the next fireworks event takes place near you, take a quick look through the list of symptoms again to make sure that you know what you are looking for.
3 Survival Tips
I think it is probably most helpful to look at this in two parts;
what can be done in terms of preparation and,
what can be done on the night of the fireworks event.
So, we have a two-pronged attack. For best results, you will want to combine the two.
3.1 Preparation Before the Event
Visit your vet
OK, first things first.
Make an appointment to see your vet and get your dog checked over. You want to make sure that there aren't any underlying medical issues that may be causing the stress that your dog experiences when fireworks are used.
Desensitisation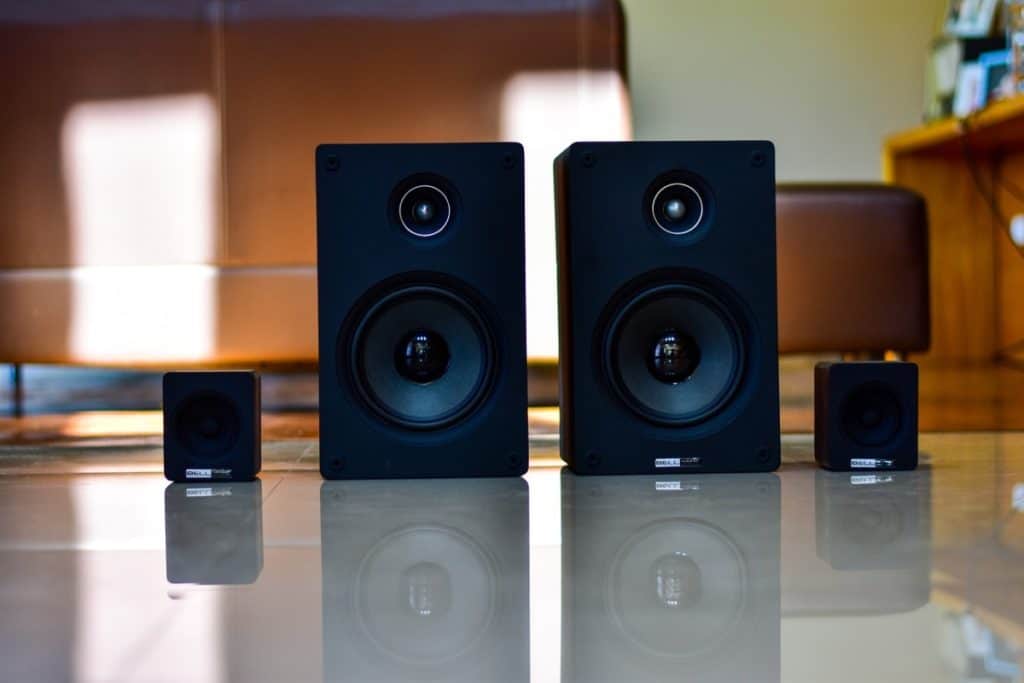 In essence, what we are trying to achieve here is to help our dog learn a different reaction to a stimulus – in this case, fireworks.
Rather than a stress or fear response, we want our dogs to be calm and accepting of the loud noises that accompany fireworks. And, maybe, even to relish them as an indicator that something good is about to happen.
Set up a sound system (MP3 player, CD player, whatever your chosen medium) in a room where your dog feels comfortable. Make sure that you leave the door open so that your dog can leave if it feels the need to.
Find your source of fireworks noise. One such source is the Sounds Scary noises available through the Dogs Trust.
Work through the tracks in order. Start with the volume at quite a low level. Keep an eye on your dog to see how they are responding. If they find it too difficult even at low volume then you may need to seek help from a professional behaviourist.
Just try for 20-30 seconds initially to see how your dog responds. If your dog is comfortable at the starting volume then slowly begin to increase the volume. You want to find the sweet spot where your dog is clearly aware of the noise but is not stressed or fearful.
You may find it useful to make a note of the volume level so that you can ensure that you start at the right level on your next session.
Aim to play the sounds at the chosen volume level for 5-10 minutes at a time and ideally 3-4 times a day. Remember that you must be calm and relaxed throughout the process as your dog may look to you for guidance.
This will be a gradual process and will take a number of weeks (the vast majority of dogs show significant improvement after 8 weeks) of daily training.
Once you are happy that your dog's reaction to the noises has reduced you can consider moving to an element of counter-conditioning. That is, helping your dog to actually have a positive association with the sound of fireworks.
This normally takes the form of high-value treats or a favourite toy. So, when a firework goes off you need to be ready with a juicy piece of chicken (or whatever your dog's favourite treat is).
From now on, as far as your dog is concerned:

LOUD BANG = FANTASTIC TREAT!
You can then move the counter-conditioning process to the next level. Here you want your dog to look to you for guidance and reassurance. If he sees that you are happy and relaxed then he will be too.
The desensitisation process should be performed well in advance of any real fireworks events otherwise the sound of the real fireworks may still scare your dog and risk undoing the benefits of the therapy.
Once the treatment is complete you need to apply what has been learned when the real fireworks events happen. Be calm and relaxed, give your dog a treat, or play a game with him, when there is a loud bang from a firework.
A safe hiding place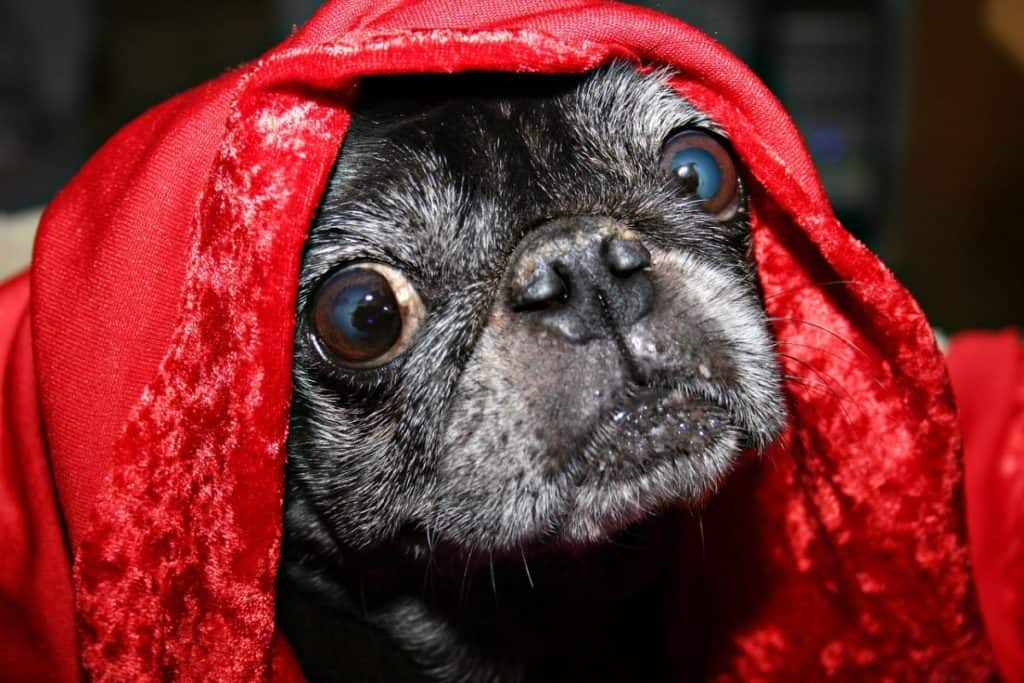 Make a safe place, or den, for your dog.
This could be a blanket draped over some chairs. Or under a table. Or a cupboard under the stairs (move over Harry Potter!).
Just as long as it is somewhere that your dog will feel safe (preferably somewhere that will, at least in part, lessen the impact of the noise and light flashes).
In the run-up to a fireworks event, practice encouraging your dog to go his den. Use his favourite treats or toy again. Consider feeding some of his meals to him there.
Medication
You can discuss this when you visit your vet, as suggested above.
You may wish to consider whether a sedative is appropriate. These make your dog feel drowsy and also have an amnesic effect – removing the stressful experience from your dog's memory.
Control your dog's environment – outside
Ideally, you want to keep your dog indoors when fireworks are being set off. The stress caused by the noise and flashing light will still be noticeable inside but to a lesser degree.
If your dog happens to be outside when a firework goes off he may try to escape in an attempt to avoid the situation.
As a consequence, every year many dogs go missing as a result of trying to escape from the stress caused by fireworks.
In fact, in the USA, more dogs go missing on the 4th of July than any other day of the year. Sadly, many are never reunited with their owners.
So, in your back garden (or yard, for our American readers), make sure that the area is completely secure. No holes in fences. No tunnels underneath fences. Gates are securely closed.
It would also be prudent to make sure that your dog is wearing his collar and ID tag (and check to make sure that the ID is up-to-date).
Also, if your dog is micro-chipped make sure that the contact details are current. If he isn't, think about whether it might be advantageous.
3.2 On the Night of the Event
It should be obvious but …
… don't take your dog to a firework display (whether a private, garden-based, one or a large public display). Just don't.
Even if you think that your dog isn't scared of fireworks there are just too many downsides to such an action.
Your dog could develop a fear of fireworks, decide to run at the scary fireworks and get injured (or worse), or run away from them and never be found (again, or worse).
Get your walk in early
Plan ahead and look to take your dog for a good walk well before the fireworks start.
Doing this has a double benefit:
The exercise will sap some of your dog's energy.
It will also release those feel-good chemicals, like serotonin, that will naturally reduce any feelings of stress that your dog may experience.
Bring forward feeding time
Once you've let sufficient time pass after returning from your walk it might be a good idea to give your dog his meal earlier than usual.
It's possible that once the fireworks start your dog may be too stressed to eat.
Control your dog's environment – inside
What you want to do is try to shield your dog from the sensory overload that results in the stress and anxiety that he feels.
Consider the following:
Draw the curtains or blinds to block out the bright flashes of light
Put on a music source, or TV, in every room that you can to lessen the impact of the sudden loud bangs
Leave room doors open – don't try to constrain your dog in any way as this will increase his stress levels
… but ensure that all doors leading outside are closed
… and that people are conscious of the dog if they need to go outside or come back in (you don't want your dog bolting outside if scared)
Have plenty of treats and/or toys to hand to help distract your dog from the fireworks
Try to engage your dog in play or training sessions to move his focus away from the noise outside (he may not be able to give his attention to this if he is already stressed but it is worth a try).
Be nice! Your dog is experiencing genuine fear and needs your help. Shouting at him or shutting him in a cupboard on his own won't help.
Lead by example
Seeing the distress that fireworks cause your dog can, quite understandably, make you feel stressed, agitated, upset, angry, and just thoroughly hacked off.
However, if at all possible you should try to keep these feelings to yourself. And I'll tell you why:
Studies have found that the emotions that we display can impact on how our dogs behave in stressful situations.
They will also look to us to see how we react to certain situations and take guidance from our responses.
Not only that but our dogs actually take comfort from our presence during stressful situations.
Dog-appeasing pheromone (DAP) treatments
What the heck is DAP?, I hear you say.
Lactating female dogs release a pheromone. As we all know, dogs have a fantastic sense of smell and it is believed that they are able to detect this pheromone and that it has a calming effect on both adult dogs and pups.
Synthetic versions of the pheromone have been produced and these have been shown to help dogs when in stressful situations.
Studies have suggested that DAP may help dogs to cope with noise-related fear such as fireworks-induced anxiety.
The synthetic DAP is usually used in one of two forms:
You could use either (or both). Best results are obtained if the use of the chosen DAP delivery system begins at least 24 hours before the firework event in question.
Keep in mind that this is not a guaranteed 'quick fix' that will work for all dogs. It seems to work for some and not for others.
We tried it with Harvey and it had no discernable effect. However, I know it has worked for some dogs so thought it warranted inclusion – if it helps just one dog then it was worth a mention.
Pressure clothing
Many dogs take comfort from tight-fitting clothing.
I'm not talking about the canine equivalent of Rylan Clark-Neal in eye-wateringly tight jeans – although perhaps dogs find this amusing too.
I'm talking about Thundershirts and Wraps which give dogs a clothing hug that seems to help to calm them.
Surprisingly there haven't been many studies on just how effective these are for dogs (there is plenty of evidence showing a positive effect for humans but this doesn't necessarily mean it will be as beneficial for dogs).
Much of the evidence is purely anecdotal. However, if you are looking for something new to try when other approaches have failed then give it a go (perhaps use it in addition to other approaches). And, please, let us know the results in the Comments section below.
Ear Muffs
I kid you not!
Sound cancelling ear muffs are now a viable option for dogs that dislike the sound of fireworks.
For more detail, read Theo Stewart's article on the topic.
Be there for your dog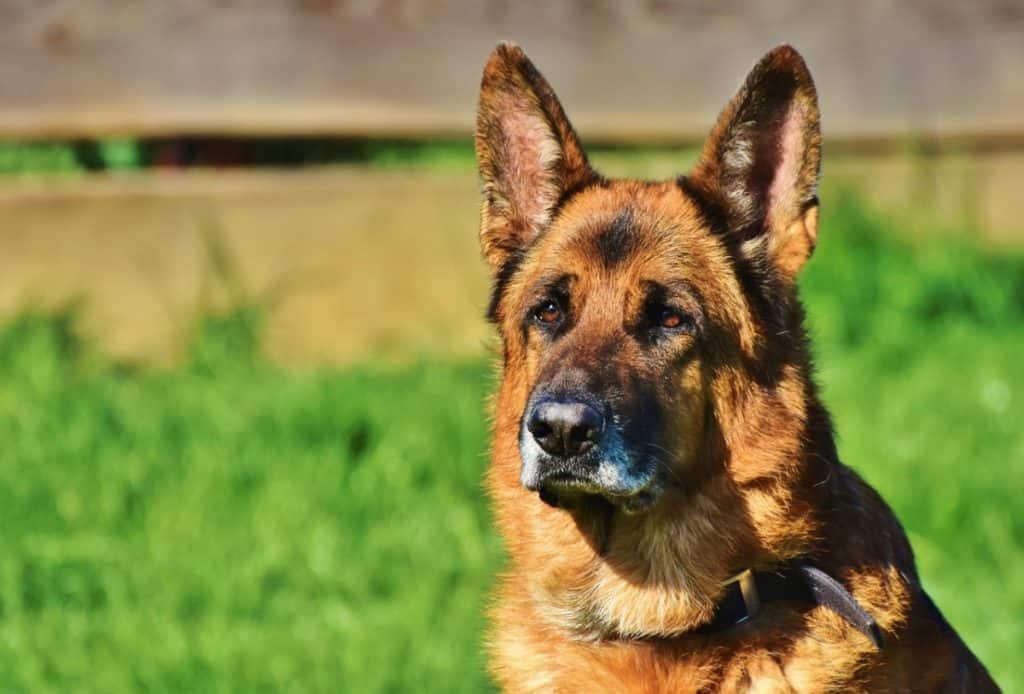 Whilst you may not always appreciate his efforts your dog constantly does his absolute utmost to look out for you and your family.
So, isn't it only right that you return the favour?
Stay in with your dog on nights when fireworks are likely to be set off. He is far more likely to panic and to react badly if left on his own.
Show him that fireworks are nothing to be scared of.
To comfort or not to comfort. That is the question.
There is a well-used phrase in dog training:
What gets rewarded gets repeated.
That is, if we reward our dog for a certain action or behaviour then they are more likely to repeat it again in the future in the hope of another reward.
So, when your dog displays fireworks-induced stress should you comfort him?
Is comforting a reward? Is stress an action or behaviour?
It seems that behaviourists can't agree on this particular subject. I haven't kept records but my perception when reading various articles on the subject has been that the split is roughly 50:50.
Personally, I think that comforting is a reward (in the same way that praise is).
However, I tend to think that fear is an emotion rather than an action or behaviour. It is a biological response, your dog doesn't choose to be scared or stressed.
So, if my dog is scared I comfort him.
Avoidance
If your dog is particularly badly affected by fireworks consider whether it is worth avoiding the experience altogether.
Do you have friends that live in an area where fireworks are not commonly set off and where you and your dog could stay for a night or two?
4 Summary
OK, so let's re-cap shall we?:
A long time ago the Chinese developed fireworks.
They are basically explosives.
They are incredibly loud (even more so for our poor dogs).
Unlike us, dogs don't understand why they are being used.
Dogs have a 'fight or flight' response.
There are many symptoms of fireworks-induced stress.
There are things that can be done to help your dog
Personally, I think it is complete insanity that members of the public are allowed to buy explosives and detonate them in residential areas.
I fully understand that some people find the spectacle of fireworks an enjoyable experience. And I'm not suggesting that they should be banned completely.
I do, however, think that improvements could be made to the current legislation in order to better protect animals. Primarily:
Restrict the use of fireworks to professional, organised events only.
Reduce the permitted sound output of fireworks.
Did you know that there are now low noise fireworks in the UK from Aurora Fireworks and Italy? How cool is that? Colourful displays for those that enjoy them whilst avoiding the excessive noise that is so stressful for animals.
If you live in another country and are aware of low noise fireworks there please let me know in the Comments section below.
On another positive note, I see that Sainsbury's has become the first UK supermarket chain to stop the sale of fireworks.
Of course, it may not have been due to consideration of the stress caused to animals but simply due to economics (ie they weren't making enough profit in their sale). Whatever the reason – Well done and Thank You!
Furthermore, it looks as if MPs in the UK will also be re-considering the problem (they have considered it before and decided to take no further action).
5 Frequently Asked Questions
By way of further summary here are some FAQs:
Why do fireworks scare dogs?
Simply put, it's sensory overload. Dogs have an excellent sense of smell, very good hearing, and reasonable eyesight. Fireworks produce lots of smoke, are exceedingly loud, and produce bright flashes of light. This bombardment of their senses puts dogs in 'fight or flight' mode.
How do I know if my dog is scared of fireworks?
This is an interesting question because in relation to dog owners a study found that "whilst they are aware of their pet's behavioural response when exposed to a loud noise, owners do not necessarily recognise this as being indicative of fear or anxiety".

Common signs include:
1. Panting
2. Pacing
3. Facial – salivating, ears back, pupils wide
4. Freezing or reluctance to move
5. Shaking or trembling
6. Vocalisation – barking, growling, howling, whining
7. Hiding
8. Bodily functions – urination, defecation, vomiting, diarrhoea
9. Destruction of the environment eg chewing furniture
10. Escaping the environment ie running away from home
How can I help my dog cope with fireworks?
Helping your dog cope with fireworks-induced stress is a twofold process:

1. Preparation
Here you are looking at ways to help your dog cope in the long term. Keys areas are:
a) Speak with your vet. Make sure there aren't any underlying issues.
b) Work on desensitising your dog to the sound of fireworks.
c) Prepare a safe hiding place for him.
d) Consider medication like a sedative (again, see your vet).
e) Control the environment – secure your garden, and update your dog's microchip details if necessary.

2. On the night of the fireworks event
a) Get your walk finished early before the fireworks start.
b) Bring forward feeding time (your dog may be unable to eat later).
c) Lead by example – show your dog how to respond by being calm yourself.
d) Use Dog Appeasing Pheromones (DAP) to help your dog to feel calm.
e) Use pressure clothing such as Thundershirts and Wraps to help calm your dog.
f) Be there for your dog. Keep him company. Comfort him.
6 Acknowledgements
Image acknowledgements:
And
7 The End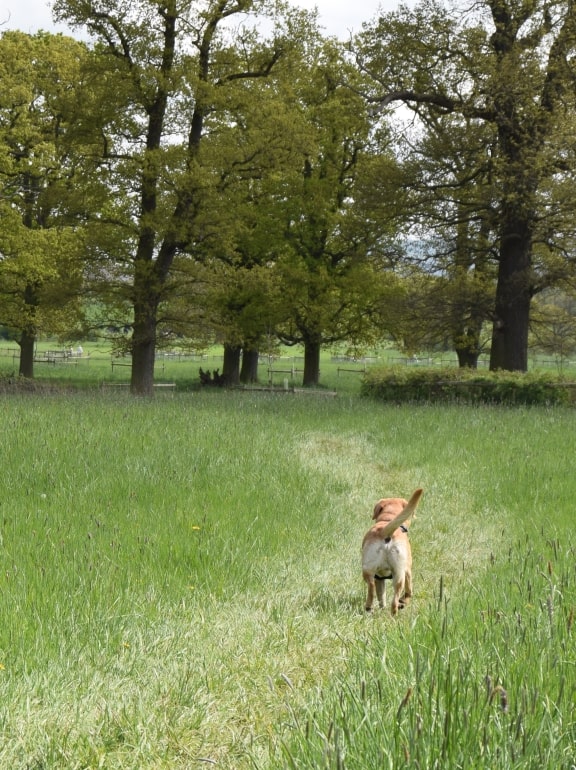 I hope that you've enjoyed this post.
Feel free to navigate around the site to see if there is anything else that may be of interest to you.
If you liked this post please share it. Thank you 🙂
If you'd like a heads-up when the next post is issued sign-up to the Richie's Room Newsletter.
And, if you'd like to add a comment that would be great too – you can do that below.