Richie's Room – About
Looking for some guidance?
Hi, my name is Richie Sills.
It may be a little unusual these days, with so many people wrapped-up in their own busy lives, but I like helping people. Not for any sort of reward or payment but just because it makes me feel good.
When I think back to times when I needed help because I was struggling with a particular issue I recall that I was fortunate enough to find people willing to provide that help. So, in a way, I guess I'm repaying that kindness to me by looking to helps others.
The fact that you have found your way here suggests that you may need help with a particular topic. I sincerely hope that one of the articles here will be able to help you with that topic. If there is a topic that isn't yet covered and that you would like me to cover please send me an email.
My main passions are dogs and Excel (weird combination, huh?) but I do take an interest in other areas too and will make some posts on these topics in the Blog section. For example, how simple techniques can help anybody to substantially enhance their memory.
I hope to create my own little library of useful posts here and this was part of the inspiration for the title of the site. That and the fact that I like a little bit of alliteration now and then! Hence, "Richie's Room".
What skills can I offer?
Historically, much of the help that I've given has been provided through the medium of online forums. I started out on Excel forums, then poker forums, financial forums, and my current passion, dog training and behaviour, led me to dog forums.
On two of the main Excel forums, MrExcel and OzGrid, I was one of the MVPs and/or Moderators. If you can't find what you are looking for in terms of Excel guidance here then go and make a post at one of these forums – there are lots of skilled people there too.
During my time at OzGrid I was fortunate enough to strike up a friendship with somebody who took me under his wing and taught me a great deal in relation to Excel Visual Basic for Applications (VBA) – Dennis Wallentin.
You'll also find my name listed in the acknowledgements sections of a number of Excel books.
And I'm currently a Moderator at the My Labrador Friends dog forum. This really is a fantastic little forum – lots of knowledgeable people who are willing to share their experience and provide advice, and all in a very friendly manner (no trolls or keyboard warriors here!).
Finally, when I take an interest in a subject I embrace it fully. I'll buy and read many books on the subject, read internet posts, and join appropriate forums. This helps to give a broader knowledge of topics and cement learning. With enough enthusiasm the student may eventually become the master …

Who the heck are you?
A lot of the better 'About' pages that I've seen let readers know a little more about the writer by providing a list of interesting (or not!) facts about them. With that in mind:
I'm happily married to the love of my life.
I hate garlic.
I used to play a lot of online poker. I made enough profit to buy a new TV, surround sound system, Playstation, and jewellery for my wife.
I'm 6'2" tall and weigh around 15.5 stone (yes, I still use Imperial measurements!) although I'm working on reducing the latter.
I love Chinese food, but hate Indian food.
I used to be a cat person (and still like cats a lot) but I'm currently very much a dog person.
I used to do Ju Jitsu (until I broke my leg in a freak accident).
I have a degree in Economics.
I like the Jack Reacher books by Lee Child (but hate the choice of Tom Cruise to play the role of the 6'5"" 17 stone hero!)
I like listening to music but can't play any musical instruments.
I was in the school basketball team. And cricket. And football.
I'm probably way too old to still be playing on a PS4 … but I still like it!
I like coffee. But I don't like tea.
I like whisky. But I don't like champagne.
I firmly believe that music peaked in the '80s – it's all been downhill since then!
OK, brace yourselves, I don't often pose for photos … here's me during a holiday in Sorrento (if you haven't been I can thoroughly recommend it – friendly people, delicious food, and fantastic scenery).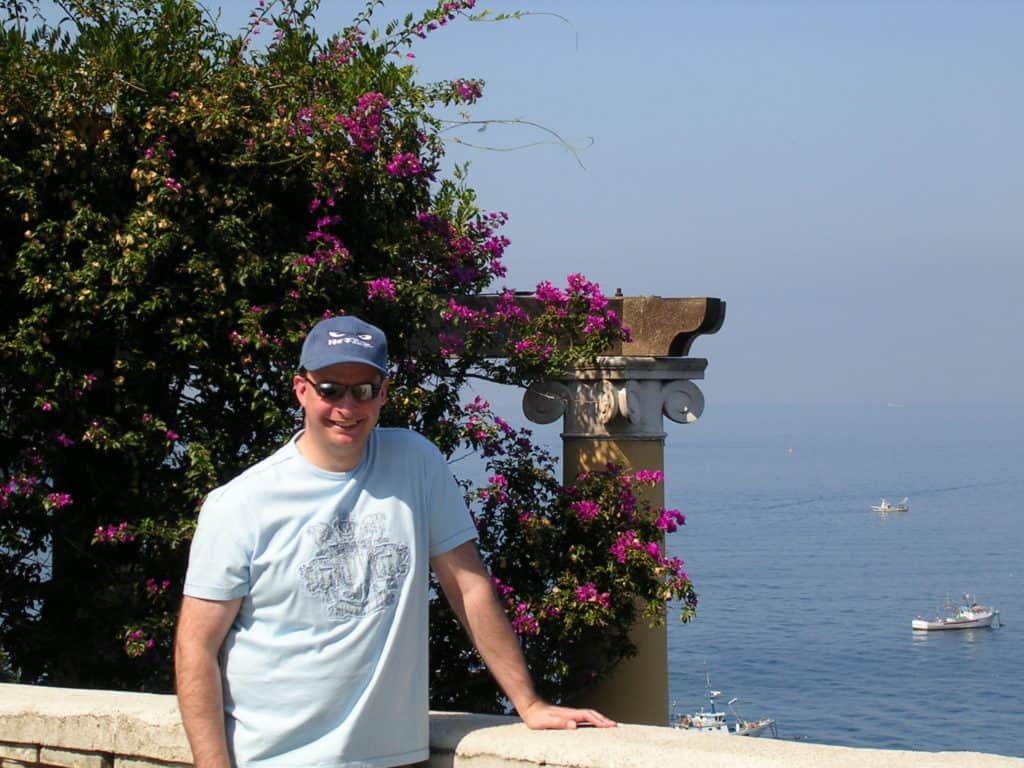 Well, that's a little about me and this site. I hope that you enjoy it. Feel free to add comments to any of the posts. If you would like to contact me then you can email me at richie@richiesroom.com.
Pick a blog to read
OK, well if you've made it this far – thank you for reading.
Please do continue to look around the site. You can use the menu items above to pick your chosen blog option. Or, if you'd like to dive straight into a post, consider one of these:
Would you like to be able to quickly learn the 50 US states and capitals? It can seem like a daunting prospect. Read on for how to get awesome results. Read more
Richie's Room on Social Media
If you're a social media junkie (go on, admit it!) then you can follow Richie's Room here:
Richie's Room Newsletter – Never Miss a Post
To receive a quick heads-up whenever a new blog post is made please sign-up to the Richie's Room Newsletter.